Frequently
asked questions.
Frequently
asked questions.
What is the work area structure of the drawing dies and function?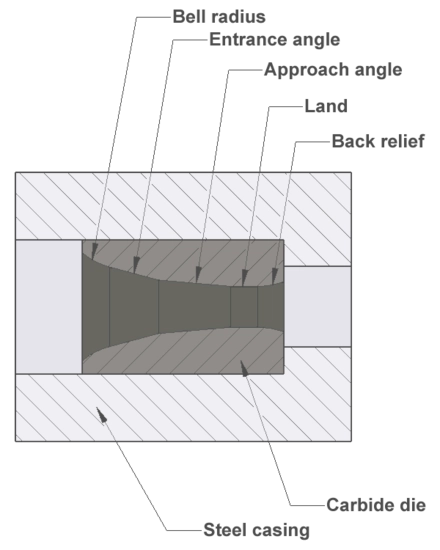 The structure of the wire drawing dies core can be divided into five sections according to the nature of the work:
Bell Radius: It is convenient to thread and prevents the wire from scratching the drawing dies from the entrance direction.
Entrance Angle: Through it, the steel wire can be easily brought into the lubricant.
Approach Angle: The main part of the die hole, where the deformation process of the steel wire is carried out, that is, the original section is reduced to the required section size.
Land: Its function is to obtain the exact size of the drawn wire.
Back Relief: Used to prevent the steel wire from being unsteady and scratching the surface of the steel wire.
The inner diameter profile of the drawing dies is very important, it determines the tension which is required to compress the wire and affects the residual stress in the wire after drawing.
With the increase of the wire drawing speed, the service life of the wire drawing dies has become a prominent problem. Americans T Maxwall and E G Kennth proposed a new wire drawing dies hole pattern theory suitable for high-speed wire drawing, that is, the "straight line" theory. The wire drawing dies made according to this theory has the following characteristics:
The entrance area and lubrication area are combined into one, which has a tendency to reduce the lubrication angle so that the lubricant is subjected to a certain pressure before entering the working area, so as to achieve a better lubrication effect.
The entrance area and working area are lengthened to establish a better lubrication pressure, and the angles are optimized according to the drawing material and the compression rate of each pass.
The sizing area must be straight and reasonable in length.
The vertical line of each part must be straight.